10 Unique Destination Wedding Favors Your Guests Will Appreciate
Congrats, you're engaged! (Or, you can't wait to be— wink.) If you're reading this, you're probably exhausted after what seems like a bazillion hours scouring the internet for wedding inspiration. We get it! Or perhaps, that's really all you do with your time now, and you're absolutely loving every minute of it. We also totally get it, we've been there too!
There are loads of blog posts on weddings in general, but few that really speak to destination weddings and destination couples. More still, there are even fewer blog posts on the interweb on favors for your family, friends, and other loved ones.
Destination weddings are such fun to plan and be a part of. Destination wedding favors are very important as they are used to commemorate your big day and to let them know how grateful you are that they came along for the ride. Choosing the right favors is very important because it goes a long way to expressing just how you feel about your guests. You also do not want to spend so money on gifts that your guests will not use, appreciate or worse still, take home with them from the party.
When coming up with favor ideas for your wedding day, you may choose to give your guests a keepsake of your nuptials, or something to use while they are on vacation at your destination wedding. Many couples include destination wedding favors inside of a welcome gift bag given to guests as they arrive at the group hotel where you are all staying, and containing items that will be useful for their trip or for the various activities and events planned leading up to and during the wedding.
With wedding season around the corner, we wanted to share our 10 best destination wedding favors that will definitely not get left at the altar, sorry, we mean *on the table*, lol!
Drumroll please…….
1. Edible wedding favors
Photo: Cricket Printing (etsy.com)
From colorful Jordan almonds wrapped in toile to coffee beans from Buenos Aires, edible wedding favors are sure to be a hit with your guests. You may choose edibles that are related to your wedding location for added significance. When considering edible wedding favors, you also need to bear in mind the containers that will house them. From little honey jars to paper favor boxes, there are always many options to consider.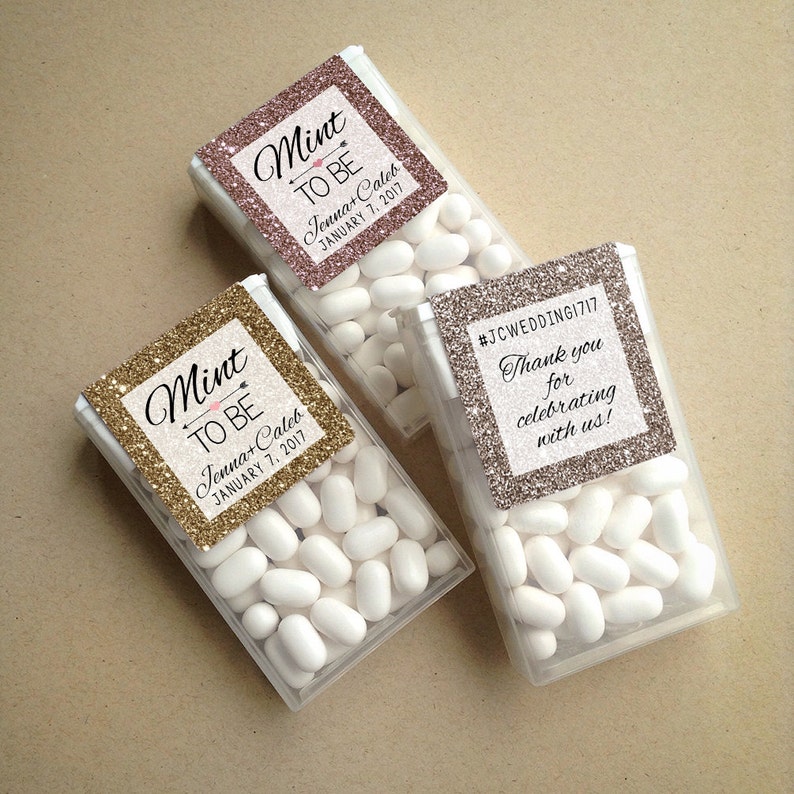 Photo: Paperandbowpaperie (etsy.com)
Personalizing the edible favors is an extra added touch. You may use kraft tags to individually label each favor. Who knows, your guests may find themselves snacking on their wedding favors at your wedding reception when they get peckish. Everyone will definitely appreciate a bag of mint candy after a long day of dancing in the sun!
2. Bottle Opener Wedding Favors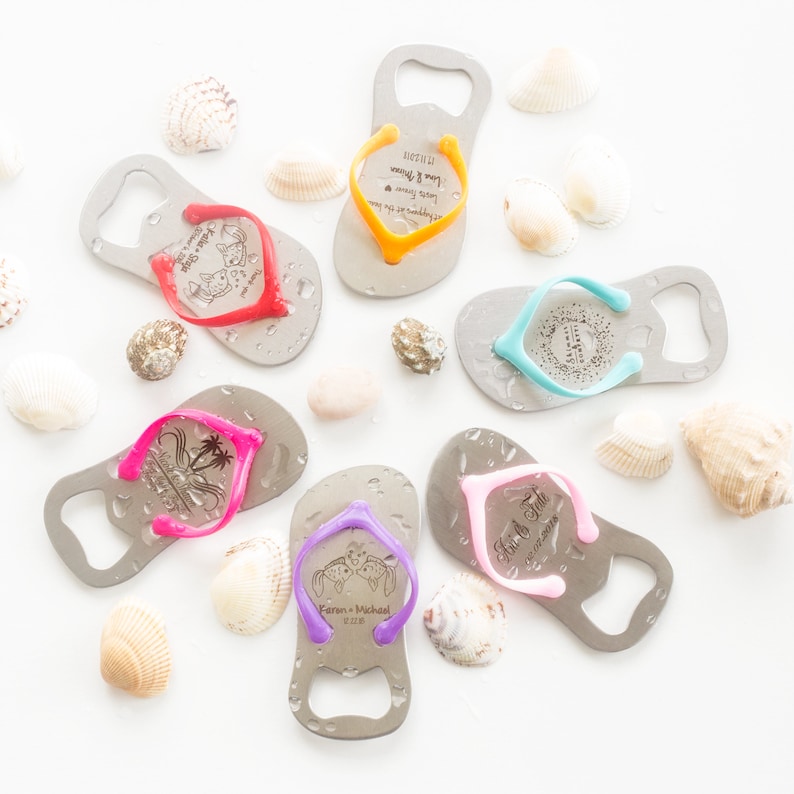 Photo: Shimmer & Confetti
Why not give out bottle openers as destination wedding favors? Bottle openers are the perfect favors for a destination or travel theme wedding party. Have them engraved with your event details or party hashtag! They are practical and there are so many bottle openers styles available to suit your event and budget. These bottle openers are definitely a great idea to commemorate your wedding and will keep your guests talking, long after you say your I do's. 
Consider choosing a bottle opener style that reflects some aspect of your destination—such as these flip flop bottle openers for a beach destination wedding or these airplane bottle openers for a travel theme bridal shower perhaps. These pineapple bottle openers are great for a tropical destination wedding, while these flamingo bottle openers are a perfect choice for a Luau wedding. Having a beach/cruise wedding, consider these palm tree bottle openers or perhaps these anchor bottle openers.
Every time one of your wedding guests uses their bottle opener favor, they will be thinking of your big day and all the fun you all had in the sun!
3. Bottle of Alcohol Favors

Photo: papercuteink.com
Who can say no to free alcohol? Mini bottles of alcohol are always a special favor for guests. Whether you go with Ouzo for a Greek Island wedding or tequila for a Mexican wedding, this wedding favor will be a real treat for your guests. Dare to be different when choosing the type of alcohol to use as your party favors. Bottles of beer from local microbreweries could be a fun option. 
Add mini tags to a mini bottle of your favorite spirits for a party favor that is guaranteed to be a hit with your guests! These tags can be personalized with the bride and groom's names and wedding date. 
4. Tote bags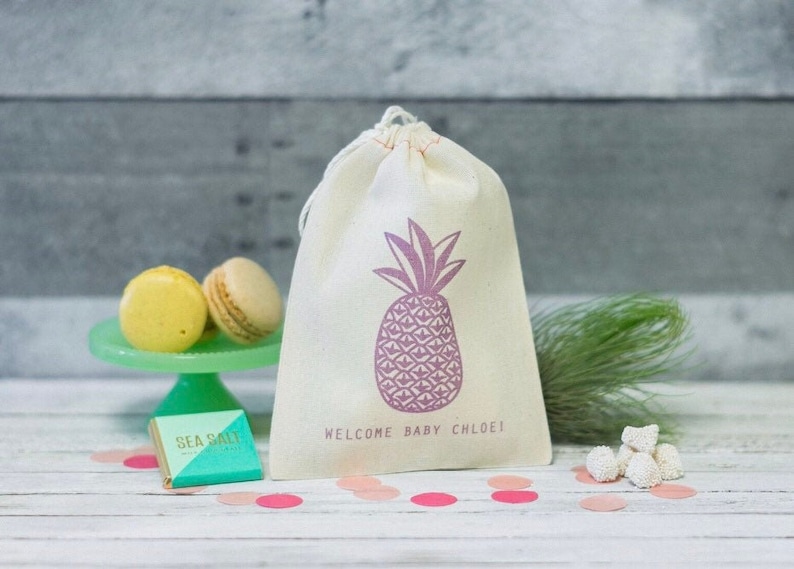 Photo: Be Collective (etsy.com)
Tote bags are easy peasy and perfect welcome bags for your beach destination wedding! They can serve the dual purpose of holding your other smaller wedding favor items, as well as being a wedding treat all by themselves.
When personalizing the tote bags, you can include a picture that represents your destination - think a pineapple for a tropical destination wedding. You may also consider printing on your wedding date in your chosen date format or the couple's names. Either way, make it fun and pretty, or simple and minimalist so that your guests will still want to "tote" them around months after your wedding. When choosing a fabric and style of tote bag, again, consider your wedding destination - for a beach wedding, a woven bag or beach bag would be perfect! 
5. Sunglasses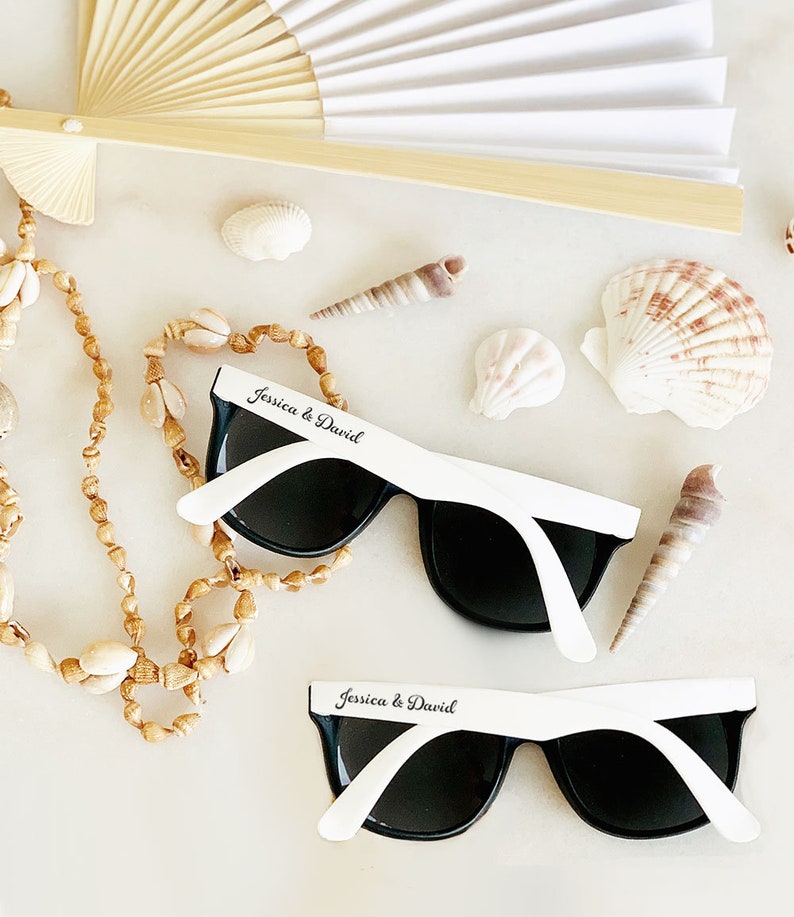 Photo: Mod Party (etsy.com)
These stylish wedding sunglasses are a great idea for a destination wedding! If your ceremony is outdoors, place a set of sunglasses on each chair to shade guests from the sun. How thoughtful, right?
For an extra personal touch, you can personalize each pair of sunglasses with either your wedding details (couple's names and date of event) or with the names of your Girl Squad or Bridal Party!
6. Luggage Tags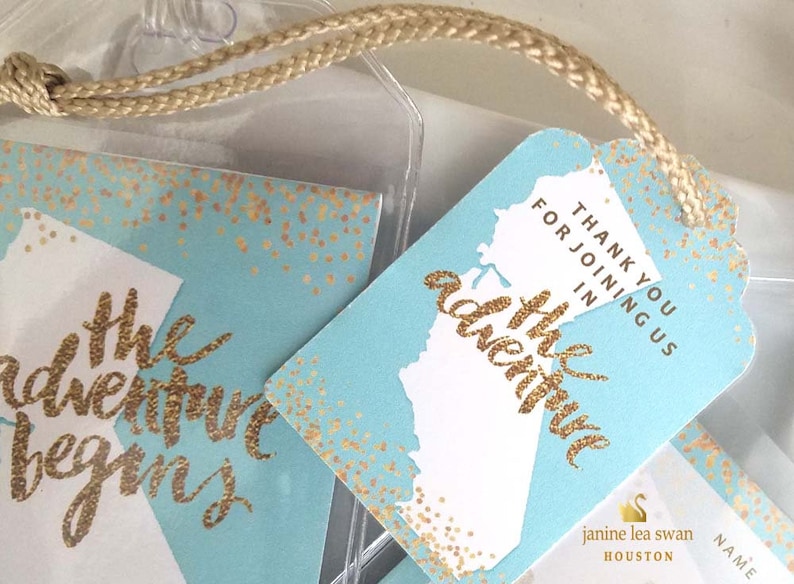 Photo: Janine Lea Swan (etsy.com)
Nothing says Jet, Set, Go! like travel-themed luggage tags. They are a practical and reasonable favor for travel groups or event favors. Many of us have experienced lost luggage at some point, and the sheer disappointment and inconvenience that comes with it. Help your wedding guests protect your bags from loss by gifting them a personalized luggage tag. You could personalize each luggage tag with the name or initials of each of the wedding guests or use your initials, wedding date, or wedding hashtag. You may also consider using a romantic travel together quote like "Our Adventure Begins Here".
7. Favor Boxes

Photo: Shimmer & Confetti
Think outside the box when creating favor boxes (you can even consider this your own swag bag!) If you are including a luggage tag and airplane bottle opener favor, why not have a small suitcase cardboard box or burlap wedding favor bags. These can all be personalized with your wedding details and hashtag. Try to get a high-quality box that can be flat-packed for the journey to your destination wedding and that will also keep the goodies inside them safe.
8. Treats
Photo: Cookie Box Store (etsy.com)
Handmade French macarons are a perfect gift for birthdays, weddings, bridal and baby showers, graduations, and corporate events. Mini cupcakes baked of the same flavors as your wedding cake and packaged in a cute clear box is a yummy and delightful gift. You can also make your own favors such as a barbecue spice rub, honey, coffee or other destination appropriate take-home treat. Jerk chicken spices work great as favors at a Jamaican wedding setting or mini olive oil bottles at a Tuscan destination wedding.
9. Personalized Favors

Photo: Shimmer & Confetti
There are so many personalized options appropriate for a destination wedding. From bottle openers to candles, soaps, and lip balm, there are many personalized gifts to mark your destination wedding. They can all be personalized by engraving or printing destination wedding slogans or quotes. When considering the messages to be printed on personalized items, spare a moment's thought for how they will be used after the wedding. Guests are more likely to use everyday home items with your initials or wedding date than with your first names. 
10. Hip Flasks
Photo: Shimmer & Confetti
Show your groomsmen that you appreciate them with this engraved, personalized hip flask. Have them engraved with your event details or party hashtag! They can be individually personalized with each of your groomsmen's names.
Considering hip flasks for your #girlsquad, these pink hip flasks would make a perfect gift.
For all your wedding party favor needs, check out our unique party favors collection. Stay on our blog for more inspiring party ideas!
Don't forget to pin it!