How to Host a Magical DIY Unicorn Birthday Party
What could be more fun and magical than a unicorn birthday party?
Make your toddler's birthday extra special and go all out with a magical unicorn theme! You can weave your theme into every detail throughout the party, from the décor to the food. 
It's sure to be a party your toddler and their friends will never forget! Here are a few tips on how to DIY a unicorn birthday party.
Set the vibe with a unicorn themed balloon arch 
There's no better way to represent the theme of the party than with a unicorn balloon arch! They're beautiful, festive, and fun. They're a perfect backdrop for photos and they're actually quite simple to put together! 
The best part is you can buy a unicorn balloon garland kit, so you don't have to work about the design aspect. Simply buy and assemble! 
Here are two great options:
Bright Unicorn Balloon Garland: Buy here for only $22.99 for a 16-foot arch!
Pastel Unicorn Balloon Garland: Buy here for $22.99 for a 16-foot arch.
Set up a unicorn birthday cake and dessert table
It's not a birthday party without a birthday cake! You can set up an entire dessert table with a showstopping unicorn cake in the center, surrounded by complementary desserts.
Add colorful sprinkles to your desserts to keep with the theme as well. Sprinkles spark joy for everyone!
For unicorn birthday cake and dessert ideas, get some inspiration from our post available here.
Incorporate a costume element by giving guests unicorn horns and headbands 
Allow the guests to feel just as magical as the theme with fun, beautiful unicorn headbands! We all know how much kids love to play dress up.
Unicorn horns and headbands are a fun to wear and adorable in photos. There are various colors and designs to choose from. Buy them here for $6.92.
Liven up the party with unicorn games and activities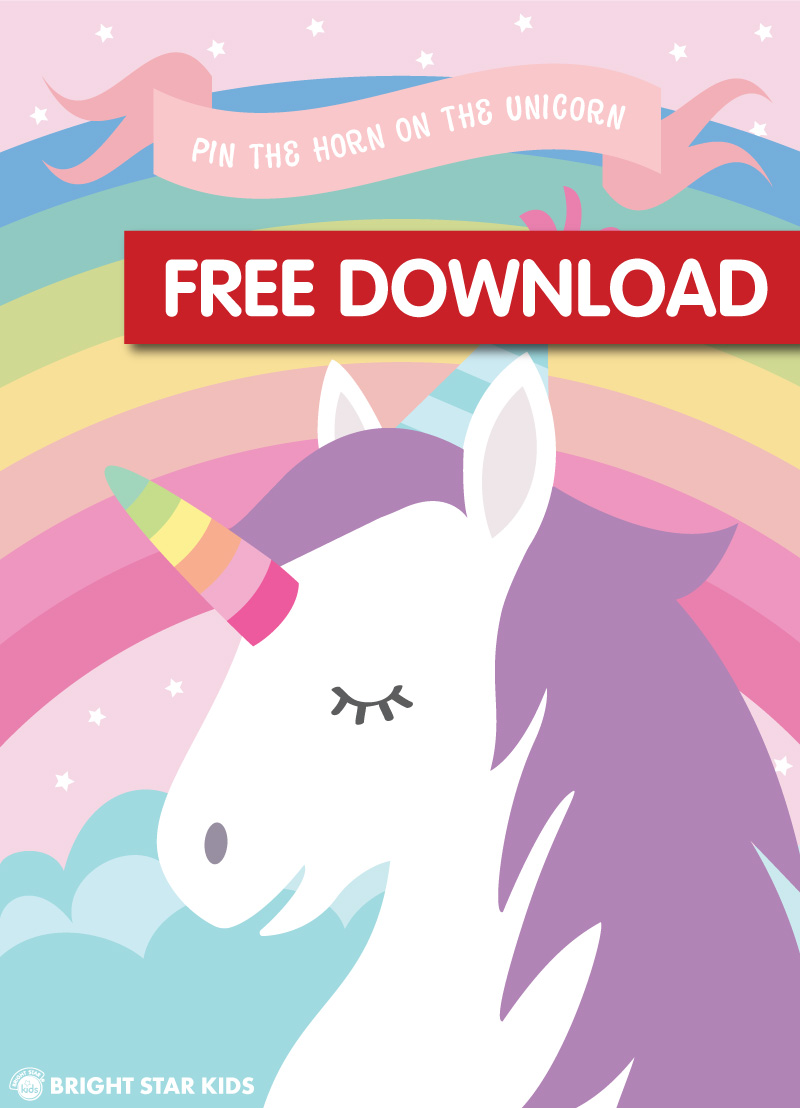 A fun spin on pin the tail on the donkey is pin the horn on the unicorn! There are a number of free printables you can download on Pinterest, including this one. Simply print the pieces and find a blank wall where you can hang the poster! The kids will love it. It always brings lots of joy and laughter to a party.
Another fun activity is cupcake decorating! Simply pre-bake the cupcakes. Decorate them with a cute unicorn cupcake decorating set. You can buy one here for $27.00 and it comes with cardstock cupcake wrappers and toppers. Then, provide frosting and sprinkles for the cupcake decorating station. Kids love hands-on activities at birthdays!
Include a special guest: a unicorn!
If your budget allows and you have enough space in your backyard, you can arrange pony rides as a fun birthday activity. Add a horn and you've got a unicorn!
Set up a unicorn-themed photo booth
Photo booths are always fun. They're a beautiful way to capture the joy of the day. It's really easy to make a festive photo booth. Start with a photo booth frame, available here for $19.99. Add some unicorn hanging swirls for a little extra sparkle and shimmer, available here for $35.00. And you're all set.
Serve festive unicorn-inspired snacks and punch!
The unicorn theme is all about incorporating rainbow colors wherever possible! Serve a spread of fruits and vegetables making healthy snacks available to the kids in attendance. Arrange the fruits and vegetables in their own respective platters by color to build a rainbow!
Serve punch in unicorn cups! Stick on some cute unicorn eyes onto plain paper cups. Drop in a straw wrapped with a little cardstock unicorn horn. It's a fun way to incorporate the theme into every last detail.
Don't forget the unicorn party favors!
Gift birthday party attendees some fun, colorful unicorn wristbands or bracelets. They come in a variety of colors with a cute illustration of a unicorn face in the middle. These are sure to bring joy to guests. Buy them here for only $2.22.
There are also cute, simple white unicorn bracelets with varying illustrations of unicorns in the middle. You can buy a pack for $60.00 here.
Wrap Up on DIY Unicorn Birthday Parties
It's easy and fun to execute a unicorn birthday party theme! It'll be one of the most memorable birthday parties of all time. It's fun for everyone! From the birthday girl or boy to their friends to the parents, this one is going to be a hit!
Tell us what you are planning, and we will send you more curated content to help you. Fill out the form below to share.
Happy party planning!